Hedge trade to hedge your risk
You can buy and sell a same asset in opposite directions to be risk neutral on market volatility.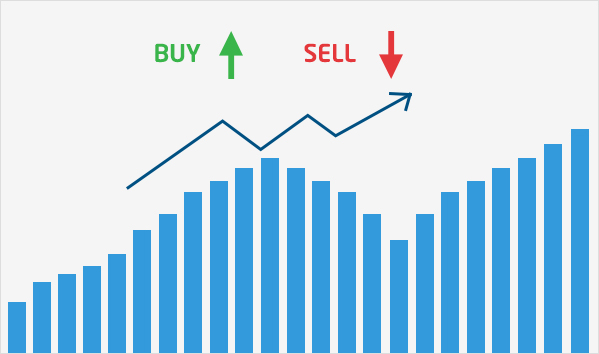 For example, A trader opens a position to buy 1 million barrels of Crude Oil, but due to a short-term political turbulence, the price of Crude Oil become unpredictable. In this case, the trade can place a hedged trade by selling another million barrels of Crude Oil to be market neutral without taking any margin call risk.

From the image above, you will see a trader hedged US stock index. The trader bought and sold the same amount of Nasdaq index and S&P 500 index. As a result, the trader achieves risk neutral market exposure while gaining overnight swap interest, profiting over $500 for holding position over two months.
Ride a move in a split of a second
Enable One Click Trading from a chart in your trading platform to place an order instantly with one click with predefined volume. It is fast but also dangerous because your order will be executed without asking you for any confirmation. This also enables you to open, modify and close positions quickly, as well as manage pending orders directly from a chart window.

To perform One Click Trading operations directly on a chart, a special panel is available. To activate it, execute the "One Click Trading" command in the chart context menu using a right click.
Perform trading operations right on a chart
Combined with one click trading function, this enables users to open, modify and close positions quickly, as well as manage pending orders.
Placing Pending Orders
Pending orders can be placed from a chart using the Trading submenu of the chart's context menu.
Place your mouse cursor on the necessary price level on a chart and execute the appropriate command to install a pending order.
According to the cursor's position, available order types are displayed in the menu. If the menu is activated above the current price, the user can place Sell Limit and Buy Stop orders. If the menu is activated below the current price, Buy Limit and Sell Stop orders can be placed.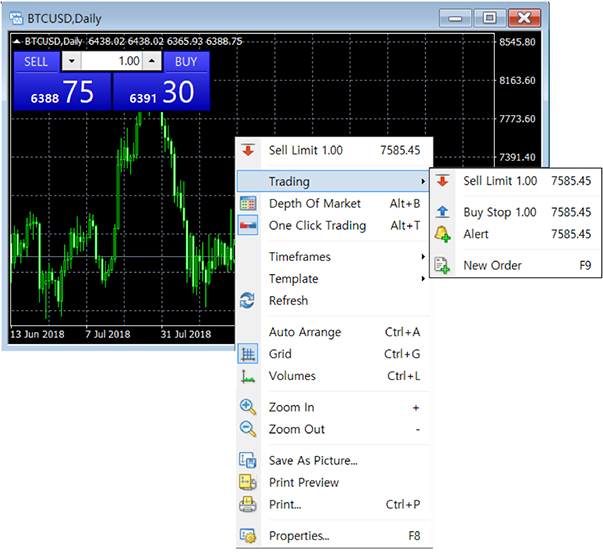 After executing the command, Order window will appear allowing users to adjust its parameters more precisely.
Managing price levels for Stop Loss, Take Profit, and Pending order
First, enable "Show trade levels" option in the terminal to see price levels. Then, simply click the price level you want to adjust and drag it to a price you want to change it to. Drop the price level by releasing the mouse button once the cursor is at the required price. When moving a level, there is a tooltip displaying potential profit (or loss) and pips that can be obtained if the level triggers.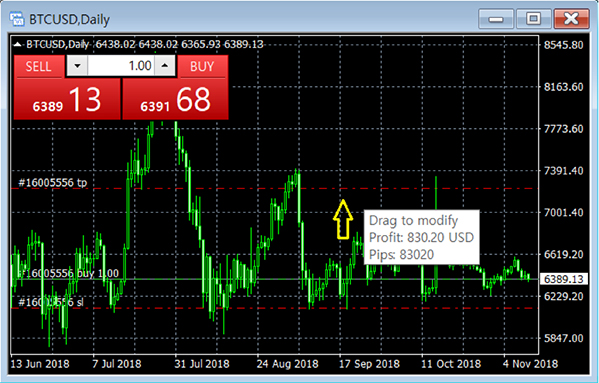 After setting the level, the position modification window will appear, allowing users to adjust the level more precisely.
Lock your profit with Trailing Stop
Trailing stop trails a market move in your favor by adjusting Stop Loss order automatically to increase your profit as long as the market moves in your favor. When the market changes its momentum and moves against your favor, Trailing Stop will no longer adjust your Stop Loss and your open position will be closed at the highest Stop Loss level that your Trailing Stop placed.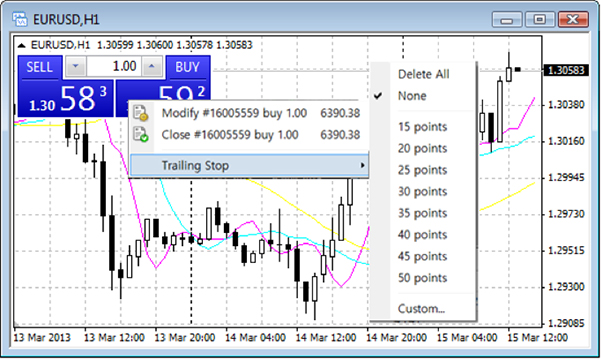 Trailing Stop is attached to an open position and works in your trading platform, only not in the server like Stop Loss, meaning if you turn off your trading platform, Trailing Stop will no longer adjust Stop Loss.
Put your trading strategies into your trading robot and let your trading robots analyze the market and trade for you
One of the most fascinating possibilities provided by MetaTrader is the trading robot feature, which enables automated trading using robots. These applications can analyze the market and perform trading operations in accordance with a specific trading strategy.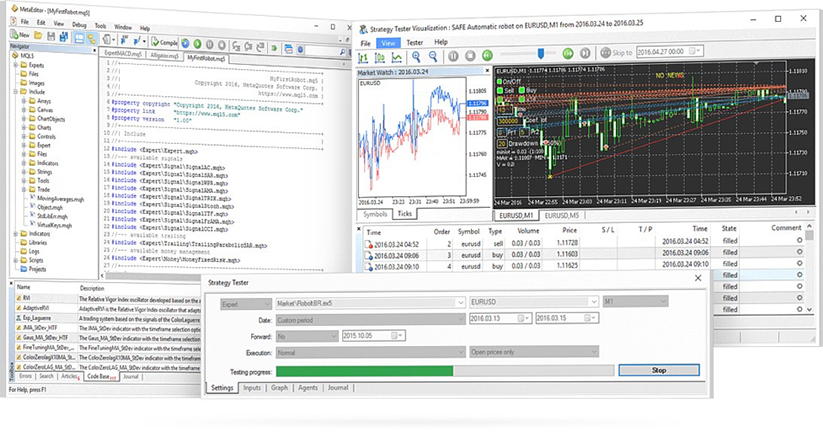 No programming backgrounds?
Use the built-in Wizard to assemble your trading robot using ready-made blocks.
For experienced developers
C++ based high-level object-oriented programming language available at your disposal.
Test your trading robot.Test and optimize a trading robot before real trading
You can test your trading robot using a risk free demo account with real market prices or you can use the built-in Strategy Tester, which allows you to evaluate the efficiency of a trading robot using historical data directly from your trading platform.
Strategy Tester analyzes historical data over a selected period and performs virtual operations according to its algorithm. Strategy Tester also allows you to test multi-asset trading robots that are capable of analyzing different assets and identifying the correlation between them.
The testing process can also be visualized as all trades performed by Strategy Tester are displayed on a chart.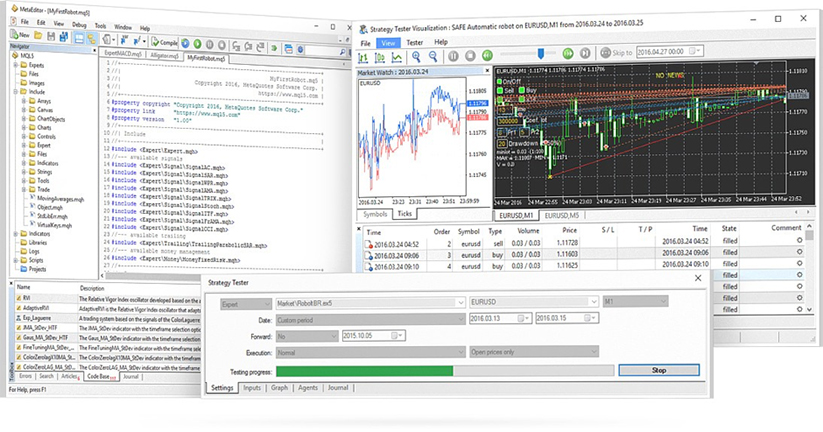 A comprehensive testing report is also generated after a test run, allowing the detection of weak points in an Expert Advisor and making appropriate changes.
Copy trades of others
Using Trading Signals services, your trading platform will copy trades from another account in real time.
How it works
Traders provide public access to their trades while others can subscribe to this signal for automatic execution on subscribers' trading accounts.
Earn extra income
The Trading Signals service enables successful traders to earn extra income on a regular basis by selling signal subscriptions to thousands of users around the world.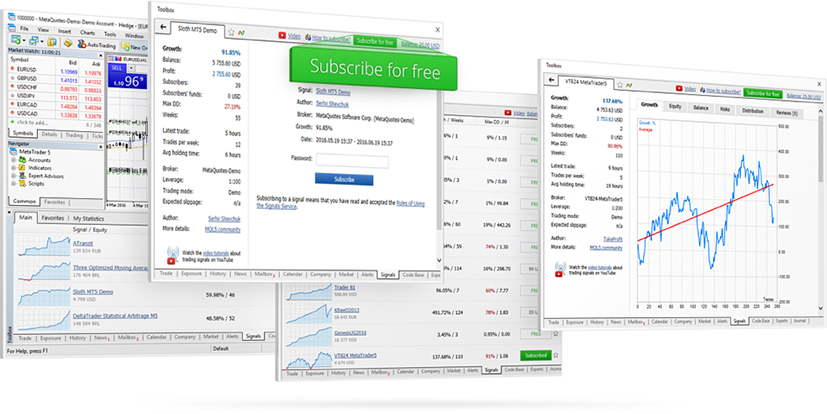 Professional
Technical Analysis
Need tools to predict future market movements?
MetaTrader equips traders with the full arsenal of analytical tools for the most thorough price analysis and forecasting.
80 built-in technical indicators and analytical objects.
100 charts can be opened to monitor all required financial instruments.
21 time-frames to examine short-term price fluctuations along with long-term trends.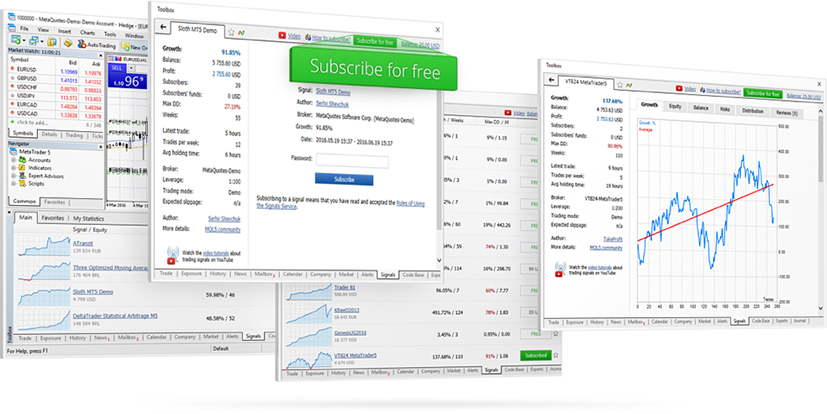 With the all the exceptional technical analysis tools available in MetaTrader, you can be prepared for any market change!